Areta, for over 30 years a leader in the market of 100% Made in Italy indoor/outdoor techno polymer furniture, has always stood out for the functionality, durability, and versatility of its products, consistently offering clients the ultimate comfort and design with which to stylishly furnish any type of environment.
Over the years, our company has experienced tremendous growth and expansion, and today we are proud to offer our clients an even wider range of products. Our catalogue now includes the Design, Rattan, and Garden collections. We believe in offering only the best products, which is why we carefully select the materials we use, making sure they withstand the test of time and remain in excellent condition for years to come.
Areta's daily commitment to environmental sustainability goes beyond the products it produces, implementing concrete and responsible practices that also reduce CO 2 emissions into the atmosphere and combat air pollution. This includes the adoption of new low-impact mobility solutions and the installation of solar panels, resulting in an 80,000 kg reduction in carbon dioxide emissions annually.
Our products are 100% recyclable and manufactured entirely within Italy using an innovative gas-assisted injection moulding process. They are also tested by the most renowned European and Italian research institutes in the furniture sector, in compliance with European regulations. Our high product quality standards begin with the use of carefully selected raw materials and the meticulous work of highly skilled and specialised workers who guarantee outstanding production results.
Like every year, we were satisfied with the feedback we received from our customers and new contacts made at major trade fairs around the world such as the Salone del Mobile in Rho Fiera Milano and Spoga in Cologne.
For example, the new Sirio table, combined of our polypropylene legs plus HPL top and the new modular partition, have been a great success. They are perfect for any indoor or outdoor environment, such as an office, patio or commercial space; are high quality products that can withstand wear and tear, versatile, with a wide range of available colors.
Our presence at various trade fairs is an excellent opportunity to present the features of all our products and to share them with the world, confident that we will exceed our customers' expectations.
Moreover, we are also on the verge of one of the most awaited events, the Host trade fair at the Rho exhibition centre, from 13 to 17 October 2023, an unmissable opportunity that will allow us to connect with new potential customers and offer them the best possible solutions, helping them to realise their goals and grow together with us.
We look forward to seeing you in Hall 11 – stand G67-L68!
we make your INDOOR-OUTDOOR FURNITURE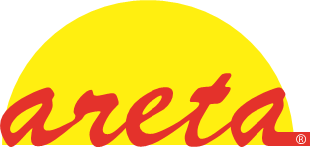 www.areta.com