Costa Cruises are a true journey into taste, where the exploration of new destinations included in the itinerary begins right at the dining table.
In the main restaurants of all the ships, alongside dishes that creatively reinterpret Mediterranean cuisine, even in their presentation, a part of the menu is always dedicated to the typical cuisine of the destinations visited by the ship, with a wide range of vegetarian and vegan options. But that's not all. Every evening, included in the fare, guests can enjoy a dish created by world-famous chefs: the "Destination Dish" by Bruno Barbieri, Hélène Darroze, and Ángel León, who interpret the traditions and flavors of the place that will be visited the following day.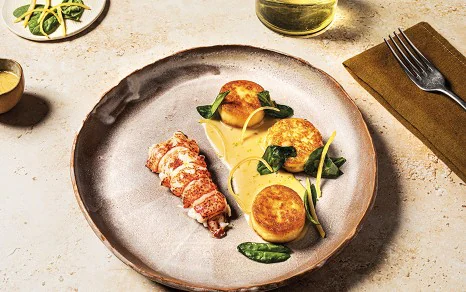 To continue the discovery of destinations in the company of Bruno Barbieri, Hélène Darroze, and Ángel León, the Archipelago restaurant, currently available on eight ships in the fleet, offers a truly unique culinary experience. In this restaurant, you can choose from three menus, one for each chef, consisting of 5 refined dishes designed to explore the sea you are sailing through via food. A lighter lunch menu with 3 dishes is also available. The concept and design of the restaurant are entirely innovative.
Archipelago consists of "island" tables for a more intimate experience, delimited by a copper structure representing the "nasse," the fishermen's nets, and it embraces unique pieces of "driftwood," installations made from wood reclaimed from the sea. Special attention is given to sustainability.
The chef-signed menus, as well as the Destination Dish, have been created with great care in selecting raw materials, primarily from local producers, and in their treatment, with the aim of avoiding food waste.
Moreover, the wood used in the "driftwood" that decorates the islands has been recovered thanks to the "Guardians of the Coast," the environmental education program for the safeguarding of the Italian coastline promoted by the Costa Cruises Foundation. For each dinner enjoyed at Archipelago, Costa Cruises will donate a portion of the proceeds to the Costa Cruises Foundation to support environmental and social projects.
The journey into taste on board Costa ships continues with wine bars, themed restaurants, and sunset aperitifs. From a snack with Nutella crepes to an aperitif with sushi, to pizza made with sourdough, ending the evening with a stroll under the stars while enjoying authentic artisanal gelato.
Pizzeria Pummid'oro offers authentic Italian pizza made with expertise. It's a concentrate of goodness and authenticity, starting from the ingredients. Plus, you can enjoy the pizzas with a view of the sea! The pizzas at this pizzeria are made with sourdough, San Marzano DOP tomatoes, premium flours, and fresh mozzarella produced directly on board, in "mini-dairies" where special machines process the best Campanian curd, creating mozzarellas, burratas, buffaloes, and much more for the ship's kitchen.
Osteria Frescobaldi, on Costa Smeralda, is the first seaside restaurant of the famous wine-producing Frescobaldi family. It's a contemporary space but rooted in Tuscan tradition when it comes to its food and wine offerings. A wine bar where you can sit down for a glass of the finest red wine or enjoy a different dinner, just like in a modern winery.
Traditional Florentine recipes like Trippa alla Fiorentina or Pici alle Briciole are accompanied by a range of premium grilled meats, including the must-try Fiorentina. The olive oil served on the table to accompany the dishes is Laudemio, also from the Frescobaldi estates. On Costa Smeralda, you can also experience the "Frescobaldi Experience," already available on Costa Firenze: it's a tasting experience guided by onboard sommeliers that, thanks to augmented reality, projects guests directly inside the Nipozzano Castle, the main estate of Frescobaldi.
Fiorentina Steak House, on board Costa Firenze, welcomes guests with the best Italian meats, including Florentine T-bone steak and Piedmontese Fassona steak, as well as Irish Black Angus and organic chicken.
For those who want to try more exotic flavors, the choices abound. The Teppanyaki restaurant takes its name from a Japanese word that means "grilling on an iron plate." But it's much more than that: it's the art of satisfying the palate and creating a spectacle that astonishes diners. This blend of haute cuisine and showmanship, thanks to the skill of the chefs, becomes a true form of entertainment that can transform a dinner into an all-encompassing experience.
Sushino at Costa is a seaside sushi bistro designed to offer an authentic Japanese experience, whether it's for an aperitif, lunch, or dinner. Nigiri, maki, sashimi, to be enjoyed in four options: aperitif, all you can eat, à la carte, or even in a "take away" version to enjoy on the go. In the Hot Pot restaurant, on Costa Firenze, guests become chefs for an evening, cooking meat, fish, or vegetables to accompany a typical Chinese broth.
The Dim Sum, also on Costa Firenze, offers an excellent selection of Chinese specialties, such as noodles and dumplings, with a menu featuring meat, fish, or vegetarian options. Don't miss Kiki Poke, on Costa Toscana and Costa Smeralda, a space entirely dedicated to the famous Hawaiian dish made from marinated raw fish.
On Costa Toscana and Costa Smeralda, Salty Beach is a space for street food lovers, while Green & Heathy Food offers light and tasty dishes with many vegetarian options. For families with children, there is an entire restaurant with design and menus specifically tailored to them. In the Food LAB, guests can experiment with their culinary skills under the guidance of Costa Chefs or learn to create perfect cocktails with Costa's bartenders.
Traveling on Costa ships also means seeing destinations from a unique perspective, that of the sea, while enjoying equally special food and wine experiences. This includes a wide range of bars and spaces in collaboration with renowned Italian and international brands.
Like Caffè Vergnano 1882, where you can savor a good coffee; Campari lounge and Aperol Spritz bar, dedicated to the most famous Italian cocktails in the world; Ferrari Spazio Bollicine, with all the offerings from the famous Trentino winery, from sparkling wines to still wines; Kartell Cafè, a space with refined and contemporary design; Nutella at Costa, an area dedicated to Nutella® in all its recipes; Amarillo gelateria, for creamy artisanal ice cream or some delicious chocolate pralines.
Heineken Star Club & Bistro, on Costa Toscana, is the world's first floating Heineken Bar, a "contemporary pub" where gastronomic offerings, accompanied by a wide selection of beers "à la carte" and beer-based cocktails, meet the best of entertainment with live rock band shows.
The onboard pastry deserves a special mention, created by Corporate Pastry & Bakery Chef Riccardo Bellaera, a student of the master Iginio Massari, a two-time winner of the "Luxury Pastry in the world" award, the SIGEP 2022 trophy, and the "World Pastry Stars" award. The offerings are inspired by the great Italian and Mediterranean traditions, with different lines of desserts, including cakes for those who want to celebrate special occasions, using high-quality raw materials and cutting-edge technology.
www.costacrociere.it